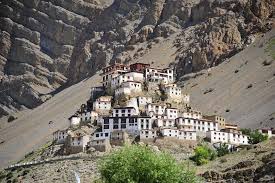 Get up and ready for an early morning. Sip warm tea or coffee, following which you visit to the Thiksey monastery. The serene monasterystands about a kilometre from your camp. This beautiful monastery houses a two storeystatue of the Maitreya Buddha seated on a lotus. Pay regards. The monastery is blessed with a remarkable view of the valley. At the monastery, you will have the opportunity to participate in the Morning Prayer ceremony at sunrise. Continue on a guided tour of the monastery.Visit the beautiful prayer room which has manyhandwritten and painted books. Also visit the temple dedicated to goddess Tara with her 21 images placed in glass-covered wooden shelves. Pay your regards to the small shrines devoted to the guardian divinities including Cham-Sing, the protector deity of Thiksey.
Return to the camp for a leisurely breakfast. The rest of the morning is free. You can choose to relax and take in the unspoiled beauty around you. Or take up the opportunity to indulge in our optional cycling trip in the vicinity of the Thiksey village and its surroundings. Or else you could also choose to drive to the Saboo village for a séance session with the Oracle.
[Note: This optional excursion will be confirmed a day prior subject to the oracle willing to give an audience]
This afternoon, proceed to the Hemis Monastery. Explore the jewel in the crown of the Drukpa lineage. The Hemis Monastery is the oldest monastic institution of Ladakh, situated about 20 kilometres (1 hr) from Thiksey. Built in a secluded valley, the monastery belongs to the Drukpa School or the Dragon Order of Mahayana Buddhism. Explore the many fascinatingfacades of this institution. The monastery dates back to the 13th century. It was established under the patronage of King SengeNamygal. Here young lamas are taught literature, history, philosophy, yoga and tantra. The monastery halls are adorned with beautiful statues and mural paintings. After a well spent day return to the camp for dinner and overnight stay.