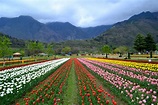 Assemble in Chennai Domestic Terminal At 0630 Hrs.
Board in Indigo Airways (6e695) At 0815 Hrs.
Arrive in New Delhi At 1125 Hrs
next Connection By Indigo Airways (6e148) At 1505 Hrs
arrive At Srinagar At 1630 Hrs.
Upon Arrival, Lunch At Restaurant
then Proceed to Shikara Ride. The Dal is Famous Not Only for Its Beauty, But for Its Vibrancies Relishing.
Visit Half a Day of Local Sightseeing of Famous Mughal Gardens with Terraced Lawns, Cascading Fountains,Paint-box-bright Flowerbeds with the Panorama of the Dal in Front of Them - the Three Mughal Gardens.
Chesmashahi, Nishat and Shalimar are the Mughal Emperors' Concept of Paradise and are Today Very Popular Places for Picnics and Excursions.
In the Evening Visit Shankaracharya Temple, Hazratbal Shrine.
Then Transfer and Check Into Delux Houseboat in Dal Lake
dinner and Overnight Stay At the Deluxe Houseboat Dal Lake.
Meals : LUNCH/DINNER